Welcome back @Johnnie122 been a while.
You must be part of the winners so we can use XBN to welcome you


Okay waiting for vote to close and to get my reward​:relaxed:

Am patiently waiting for this win
Welcome to the community @minajuddinmohmad…
Who knows you might take it all

We move ,we win , we rock
I just hit it 20.
Let's get there.
Welcome back to the community @Kassy
Make sure you win

How many trials or entry to win?
So much has happened within weeks. I am welcoming myself back to bantutalk.
@stepharnite it is good to see your energy, we await your giveaway

Nice to have you back

The poll has finally ended and to all that participated, all thanks goes to you for making it fun and making the community a vibrant one.
The answer to the poll is
spirit
To those that get the answer submit a screenshot with what you voted for with your Bantupay username…
Thanks to @decentralizednubia for supporting the giveaway pool, we say thank you…
The reward will be distributed to all winners, while we wait for @decentralizednubia to send her part to me so I can begin the distribution…
14 users we shared the pool of 400 XBN ( 28.57 each )

Stay tuned for more while we learn


Couldn't find the screenshot from my phone but I guess the organizer can see those who got it right from his end.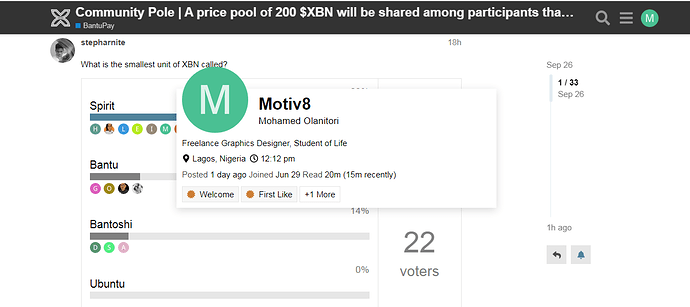 Here's a screenshot from my PC.
Username is Motiv8
welcome @ifeoluwa89 , being a while u are here. U are welcome back
Congratulations to ALL (including myself) who got it right here.
@lusim91 @Hanyi @Motiv8 @ifeoluwa89 @Mrconfirm @Johnnie122
Everyone who participated is awesome