I did not get my reward for week 3.
Thank you.
Username: danny1
Do you successfully complete your weekly task?
Weekly rewards earned by carrying out a minimum of 1 send transaction and 1 swap transaction daily between Sunday to Saturday.
hi didnt recive reward in 11 week , dont know why…please help
I completed all tasks but I not receive any XBN
Only 6 XBN in my wallet.
Fake
I also did all task but only 6 xbn received
Please check I'd burningart
Hi @Harishchauhan @Burningart unfortunately this will mean you did not successfully complete all task.
Also be sure to check your pending asset has been manually accepted
Dear I double checked I did all task Bot showing balance and I don't know where is credit u can check all my info is correct in Bot balance showing but in app not received !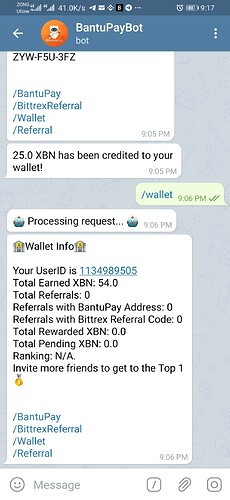 Okay if this is what you are referring to then no worries.
You must allow 24 hour validation of
BantuPay Address
BantuPay Usernames
& BantuTalk Usernames
It will be automatically deposited
I also did all task but only 6 xbn received
Please check I'd burningart
Good day! Please I have been trying to complete the task and get my referral link on telegram but the bot is not responsive
I have tweeted, but did not receive my reward. My twitter username is; @ephraimsobe
Please is bot verification no longer working
Bot not replying as I query it
i also complete all tasks and not rewarded.@decentralizednubia please check these images from bot and add my reward to my account.now problem is that a new user can send one media file so one picture is attached as proof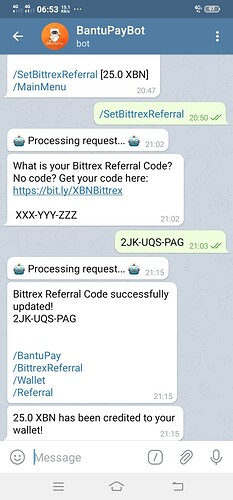 Please help me not received xbn
adress xbn: GDI3UENULDNMIQRVVBRWOGVHGCTI5SGCJ73ZCEQTC7BCSL4D6J2AQFLH
username: kusira
Please be patient folks your distributions will come
My rewadsplease my reward xbn no landing my wallet
@Asbieh Exercise patience! your rewad will be distributed.
I didnt get too after complete all task
My bantupay wallet :
GCOES7HMWIXENT3UBYKIMHJGO2XJCKDEZNDB4I6KAA5FID7PPHYCCF3C
@Natapeemak Exercise patience. It will be deposited automatically no problem