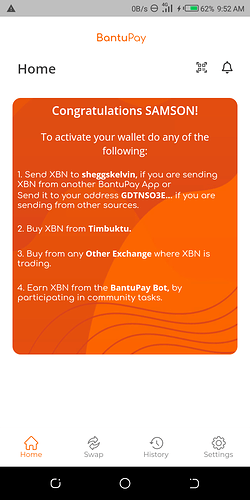 Please, why is it that my account is still not activated after the telegram task? Please someone should answer me.
Your account need minimum of 6 XBN to be activated, please kindly ask a friend or buy from the provided exchange to activate your account…
And please don't ask for XBN in the group it is highly prohibited…
About the telegram bot task, please note that it is paid in batch and distributed automatically, soon it will get to your turn to be credited…
Thank you for choosing Bantu



1xbn is how much in dollars? Can I buy from Binance?
You can't buy on binance, please proceed to


And you can also check price on Coingecko
Why is the forgot password or account retrieval inactive
Hello, @Yajiseth
Welcome to the Bantu Talk community

On the Bantupay app, tapping on the forgot password button takes you to a new page where you are required to input your details in the provided fields.
In order to complete the process, you need to have your backed up secret key and username or email address.