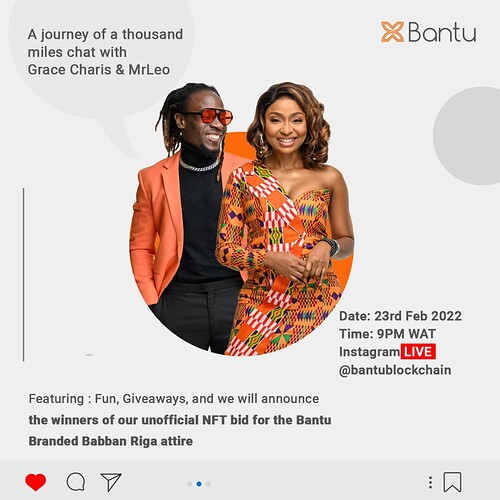 Hello Bantu!!
We have some exciting things lined up for this week!
On Wednesday by 9pm GMT+1, on our first ever Instagram Live session, we will be having a chat with two of our ambassadors (Mr Leo, and Gracecharis Bassey) who will be announcing the lucky winners of our "unofficial NFT" bid, where at least one person will be going home with the Bantu branded Babban Riga, as well as other Bantu Swags.

We have also collated your #BantuLove submissions from Instagram, Facebook and Twitter; and will select at least 10 entries for community voting on BantuTalk. The top winners at the end of the voting period will be getting some #BantuLove tokens from us!
Stay tuned and tell a friend about our upcoming IG live event. There might just be freebies.