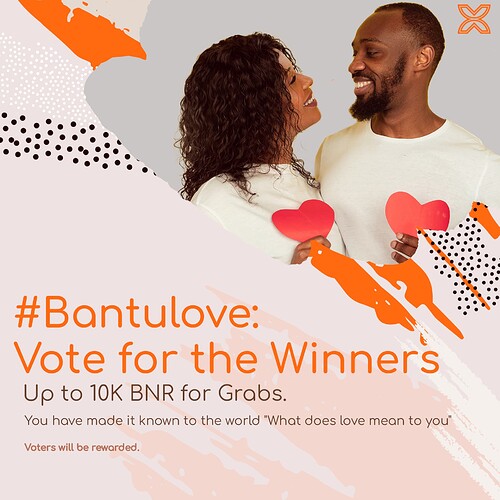 Hello Bantu!
A few weeks ago, you made it known to the world
What love means to you.
Bantu Foundation ladies consulted amongst themselves and nominated their Top 20 quotes from what you submitted on various Social Media channels during the week leading up to B-day! Below are their Top 20.


Exclusively on Bantutalk.org, the community can vote for their Top 5 quotes to help them win up to 10k BNR.
And in the spirit of empowerment, voters will also be entered to win 1000 BNR.
Here are the rules of the contest:
The authors of the quotes shortlisted here have already qualified for a minimum reward of 100 BNR.
An author can win up to 10,000 BNR if they earn the highest number of votes.
Voters can choose up to 5 nominees.

After you vote, share your favorite quote on social media,

Tag 3 friends and Tag the Bantu Foundation.

Comment on this thread with your Bantupay username and the link to your social media post.
The reward schedule is as follows:

First Place - 10,000 BNR

2nd Place - 5,000 BNR

3rd Place - 2,000 BNR

4th Place - 1,000 BNR

5th Place - 500 BNR

6-20th Place - 100 BNR
Voters Pool - 1000 BNR
**Distributed between 20 random voters. **
The vote will be Open until 2022-03-13T07:00:00Z→2022-03-19T06:00:00Z
Here are the 20 nominees:
mrconfirm - Love is the act of kindness, consideration, empathy and support. Love is all Bantu Blockchain has been showing to us through different ways since November 2020 till date. As a Bantu Native, I know that Bantu Blockchain represent love.
haruunane - Love is a sharing of peace or tender feeling showing Ubuntu (Togetherness) "you are because I am, you are nothing without me I am nothing without you" empower community to be self actualization. #Bantulove💔
honayodele - Love to me means feeling, trust and caring for one another. Unlike Bantu, it creates empowerments to community so that people can benefits in it and be independent. Bantu is love
MZaharaddeen - As the proud

#Bantu

people would say, "umntu ngumtu ngabanye abantu". Meaning "a person is a person by means of other people".

#Bantu

represents an act of kindness, a means empowerment, and a show of love to humanity, one person at a time, one community at a time.

#Bantu

is a spirit of Love, Caring and Sharing. After all, a person is only a person by means of other people.

#Bantu

wanlengon - Love is a choice A choice that remains despite good or bad, ups or down. Love builds, keeps, guards and protects. Bantu is the democracy of blockchain- blockchain for the people by the people. Human empowerment + life fulfillment = Bantu. Human empowerment and love go hand in glove.
Realchoice - Love is caring for someone else deeply and unconditionally. Love is being motivated to be the best version of yourself that you can possibly be because you are so passionate about the other person.
Kizy 22 - Love is an intense feeling of deep affection, it is also an unselfish, loyal, and benevolent concern for the good of another individual. E.g

#BantuLOVE

for Africans . Empowering us greatly
Poksmanny - Love to me means tolerance, understanding, selflessness, and care,

#bantu

means empowerment to me and my fellow Africans and empowerment to the world at large.
modezzy - love is a deep and tender feeling for affection. To me, love means finding someone that brings out the best version of yourself and challenges you to be better. Someone who you are completely comfortable with and who knows you inside and out. Someone who is truly your partner and best friend and that you can share all your experiences with. And Bantu is an extension of love and a channel to greatness.
exxypearl - Love is saying I know it won't always be smooth, I know it won't always be smiles, I know it won't always be sexy, but I will choose you always and forever. Love is, to the world, you are dark, to me you are my light. Love is compromise, Love is sacrifice, love is I am mad at what you did not you, love is forgiving, love is selfless…
Paul244 - Love is one of those things that cannot be described until a person in your life tells you it's true meaning in time and action. Bantu to me, can be decribe as a community, which it relationship is between family members (African), friends and anyone who find favour in your sight (globe)
Taofiq - Love is like sinking into a warm bath at the end of an awful day. It's being brave enough to give someone the parts of you that are messy, complicated , and not instagram perfect. It's knowing that although they hold all the tools to break your heart, they'll build you up instead
PrettyVera87 - Love is an emotion that cannot be defined with words. It's somethin defined by actions. It means caring for someone deeply that we try not to change him/her, but to transform ourselves into the persons worth loving. True love is not limited to a single person. The love towards someone is really speacial, but inspires us to love and understand the entire world as well. It's giving, sharing, understanding, belonging.

#Bantulove

Julidiamond - For me, love is that miserable feeling that i feel when somebody choose me over my tanterums. For me, love is giving sharing and caring. Bantu is impacting humanity.
imizyhu - Love is sharing, love in understand, to love is to care. Bantu is the best blockchain community i konw, bantugives me opportunity to rise above poverty and suffering. For me Bantu means Love

#bantulove

efe_tobore12 - Love means "great interest or feelings" . Bantu means "human". Love-Bantu: Humans have great interest or feelings
edidiong - Love is mother, she loved us and gave all to see us happy, even on her dying bed she still guarded up strengths and said prayers for all her children. What else can you call that? that's the kind of love i know, I understand, and I wish to give.

#bantulove

nanamartin1 - love to me means generosity, absorbing pains and offenses, willing to always sacrifice for yourself and others. Bantu has been an epitome of love depicting all of the above mentioned, giving hope to the hopeless. Free 2500

#XBN

to all is love
Ashnoor - Love means family, it's not just a word it's the secret to happy life.

#Bantu

means freedom, empowerment and togetherness to me.

#Bantulove

I am because you are!
dfordivaa - LOVE… . Love has no season, yes! love is what should be demonstrated at all time… Love brings joy, gladness and opportunities, one of those opportunities that love brings is what

@bantublockchain

is exhibiting.

#Bantu

means ease.