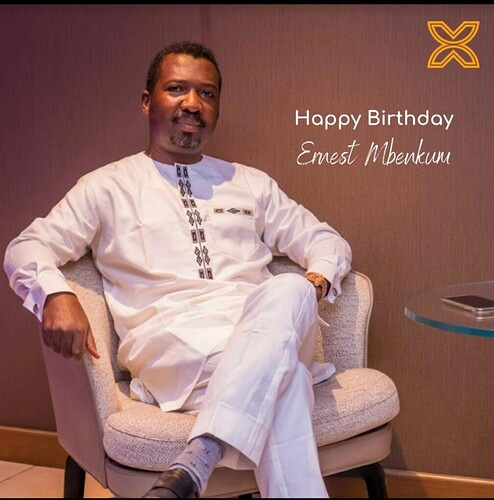 Mr. Ernest Vershiyi Mbenkum
Impact Entrepreneur, Inventor, Investor and Blockchain Pioneer.
Ernest is an entrepreneur, inventor and investor who has spent over 20 years of his
career in the technology and innovation space. He has launched successful tech
companies in North America, Europe and Africa over the last two decades. He was
an early mover for bitcoin and other cryptocurrencies (Ethereum, Darkcoin/DASH,
Zcash, Grin/Beam, Mars Blockchain, etc), being one of the early blockchain users
in the world in 2009. He is also credited for helping to start the Bitcoin and
Blockchain movement in Canada with Vitalik Buterin, Peter Todd, Anthony and
Di'Iorio when they came together in a downtown pub in Toronto on November 2nd, 2012.
In 2017 he founded Interstellar, an innovative blockchain-based platform that
allows you to securely transfer, swap, trade and manage digital assets globally.
Between 2000 and 2005, he lived in London, England where he launched his first
tech company Last Digital Ltd, providing web hosting and development services
with over 40,000 customers globally.
In 2003 at age 26, Ernest founded the first startup incubator in Africa called
NETOVATE (Networking and Innovation) which evolved to become the famous
Silicon Mountain community of tech startups. Over 15,000 people moved through
his incubator between 2003 and 2010 when it was operational.
During that period, he also volunteered as an Internet technology expert for the
British Commonwealth Service Abroad Programme and the Canadian International
Development Agency for a project aimed at empowering entrepreneurs in
developing nations.
In Europe, Ernest is the Chairman of the Board of the Chamber for Africa Diaspora
Relations (CADR), and also an adviser for the annual German Afrika Business
Forum in Cologne, which brings together government, business and finance
leaders from across Africa and Germany/EU to explore how they can work
together in finding and leveraging opportunities in Africa.
In Asia, Ernest is a Technical Adviser for Singapore-based Mars Blockchain, an
enterprise blockchain development group for private wealth management which
also launched the very first Singapore Dollar stablecoin, 1SG in 2019, which is
used for payments, settlement and cross border transactions.
In Africa, Ernest is the founder of the Organization for the Advancement of
Science and Information Systems (the OASIS), the Leading Incubator and
Accelerator for African startups specializing in Blockchain and Artificial
Intelligence (AI), the two key dimensions of the Fourth Industrial Revolution
(Industry 4.0).
In 2016 Ernest became the global advisor for the Nigerian Blockchain Alliance and
the principal investor for VenHub (formerly CryptoGene) which is the largest
blockchain and crypto-currency community in Africa with over 20,000 members.
In 2017, he launched the Cameroon Business Blockchain Council (CBBC Ltd) and
FinTech Ltd. to help raise awareness about Blockchain technology, develop
Blockchain solutions and invest in Blockchain startups in Africa. FinTech Ltd has
developed some of the most advanced applications for the blockchain space such
as the award winning Interstellar blockchain application and Decentralized
Exchange which has already received numerous accolades within the fintech
sector.
In August 2018, Ernest became the Senior Adviser for the Africa Blockchain
Alliance which helps to create guidelines and policies for blockchain technology in
Africa.
In September 2018, Ernest received the award for Best Digital Innovation in Africa
at the 2018 AFRICA EXCELLENCE AWARDS held in Accra, Ghana.
In October 2019 his Interstellar technology was nominated as a finalist for Best
Blockchain Technology in Africa by AppsAfrica in Cape Town, South Africa.
In June 2019, Ernest was one of keynote speakers at the Blockchain for Impact
Summit 2019 at the United Nations headquarters in New York and was invited to
speak in two panels entitled, "Africa Rising: The Next Blockchain Frontier" and
"Blockchain and Impact: Moving Beyond the Hype".
In July 22nd, 2019, Ernest was one of the few people invited to attend the 75th
Anniversary of the Bretton Woods Conference at the historic Mount Washington
Hotel in Bretton Woods, New Hampshire where he shared his insights on how to
use Blockchain technology for impact and financial inclusion.
In September 18th, 2019, Ernest was invited as a keynote speaker and to present
Interstellar's technology at the Future Summit in Karachi. The keynote speech was,
"Digital Transformation – The Next Phase
In November 4th, 2019, Ernest was one of the speakers and panelists at Meridian,
the first global blockchain conference organized by the Stellar Development
Foundation at Proyecto Público Prim in Mexico City. It brought together everyone
in the Stellar universe, alongside central bankers, major financial institutions and
industry experts, for two days of networking and to propose a roadmap for the new
banking and finance ecosystem.
He currently advises several African governments and central banks on the
adoption of blockchain technology and central bank digital currencies.
Ernest holds several technology patents in digital publishing, data analytics, social
networking and mobile payment systems.
ort of the blockchain's technology and business ecosystems.
2018, Founded Bantu Blockchain foundation.
BANTU Blockchain is governed by the BANTU Blockchain Foundation, a non-profit organization, with the aim to make it fully open-source in order to have the widest possible adoption and support of the global community.
Curate and guide the community of individual blockchain participants and promote the BANTU blockchain to new participants and markets globally.
He holds a dual nationality for Canada and Cameroon and has lived in Toronto,
Canada since 2005
Happy Birthday Sir Ernest Vershiyi Mbenkum a true son of Africa and a gift to us all.