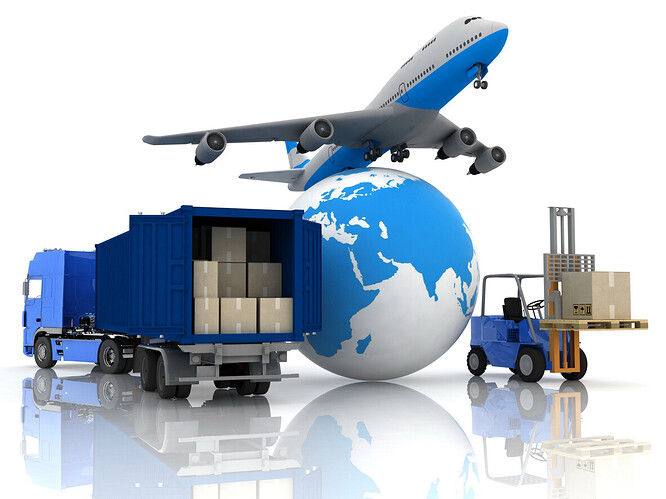 Many of today's industries are related to or influenced by the movement of goods from point A to point B. If we are to take retailers, for example, the transportation and logistics industry plays a key role in their success. Yet, despite this, many use the two terms interchangeably, without understanding the difference between transportation and logistics management.
Though both logistics and transportation are crucial in distributing materials and products, they tackle different things. Transportation deals with the movement of goods, while logistics handles the supply chain management of transportation from the manufacturer to the end-user. And while both work with getting products and services from one location to another, logistics handles storage integration, cataloging, handling, packaging, and transportation. In other words, transportation is a subset of logistics and only includes the movement of products from one place to the other.
What Is Logistics Management?
Management logistics is obtaining, producing, and distributing materials and products in the right qualities and quantities to the end-user. Logistics deals with managing and implementing procedures for efficient storage and transportation. Services and related information from the source to the consumer will be sent through various channels to meet all customers' requirements. Also, different from your typical transportation services, your logistics executive and project manager will need to tackle other issues in terms of packaging, documentation, storage, insurance, regulations, etc., particularly in terms of reverse logistics. In addition, logistics deals with claims management, risk mitigation, operation management, vendors, partners, lifecycle management, inventory management, and so on.
What Goes Into an Effective Logistics Management Program?
There are plenty of things that go into a successful logistics management system. Among these, we can include things like:
Planning – Proper planning is essential in a logistics management system. This involves everything from the products, infrastructure, vehicles, and logistics operations, and how all of them will work seamlessly together.
Automation – Artificial Intelligence (AI) and automation are changing the logistics landscape for the better. Optimization via automation plays a major role in increasing the efficiency of every transportation company, regardless of size or specialization.
Warehouse Management – Logistics also deals with warehouse management. These types of logistics operations are dependent on the type of goods as well as the logistics manager handling the operation.
Analysis, Feedback, and Proper Measurement – For a logistics network to function effectively, it needs to be optimized on a regular basis. Whenever new strategies are being deployed, proper analysis ensures a positive output.
Keeping up With the Latest Trends – Logistics management is constantly evolving, with state-of-the-art technologies and innovative approaches being introduced regularly. Keeping up with these trends and implementing them wherever it's appropriate will ensure that you will remain competitive in the market.
What are Transportation Services?
The transportation industry is responsible for the movement of goods, services, people, and animals from one location to the point of consumption. Transportation deals with different modes of transport such as road, rail, air, sea, cable, or pipeline. In addition, efficient transportation needs constant analysis in terms of the best delivery routes, lower-cost packaging, and the safety of goods in transit.
Whenever you're planning a shipment process, the method of transportation will always receive significant consideration. You will have to determine costs, the time it takes to get the shipment to the end-user, the size, and weight of the goods, and their value.
As new technologies and methodologies are being developed and improved, there has been an enormous transformation in the transportation and logistics industries. These have allowed companies to monitor the flow and resources in real-time, providing enhanced transparency across multiple points.
In such a competitive distribution and transportation industry, it's imperative that products and information move effectively and in a cost-efficient way. As the logistics and supply chain management systems are being improved, the benefits will immediately become visible in the form of lower transportation costs, optimized deliveries, and better customer service management systems.
How Logistics and Transportation Work Together
Logistics represents the brain behind the entire operation, while transportation is the muscle that sees it through. They need to work closely with each other to maximize efficiency and lower costs.
Take, for instance, a transportation company that operates across the country. It would be in its best interest to ensure that its truckers are consistently driving the most efficient routes on a daily basis. When taking into account various considerations like traffic, road closures, weather, etc., this can become quite complicated. By designing models that use the most up-to-date information possible, it will allow distribution centers to almost always send their drivers on the most efficient routes.
HOW TO REDUCE YOUR TRANSPORTATION LOGISTICS COSTS
If shipping freight is a large part of your business, your company probably faces rising costs across all your transportation logistics. In addition to the usual price increases in fuel and equipment costs, shippers face additional budget pressures from many different directions.
INCREASED CUSTOMER EXPECTATIONS
The consumer demand for ever-faster delivery times for everything from food to furniture echoes down the supply chain to force shippers to find new ways, and more budget, to keep their customers happy.
THE GLOBAL MARKETPLACE
The web may have expanded your markets, but you need to find cost-effective ways to ship to them.
MORE DEMAND FOR TRANSPORTATION LOGISTICS
The boom in e-commerce, produced by both start-ups and the shift by bricks and mortar to online channels, means more competition to find transportation logistics solutions
MORE PAPERWORK & FEWER DRIVERS
Recently imposed regulations, like the electronic logging device (ELD mandate in the U.S., and driver shortages on both sides of the border have pushed up shipping prices.
Minimizing costs is always a central focus for businesses. But the number and speed of recent cost increases for shippers can quickly put them in a competitive crunch. Their expenses have risen, but, with inflation still at relatively low levels, price increases may not be enough to offset them.
So keeping freight costs in check is both more important than ever and more difficult than ever.
Whether you ship internationally, or locally, here are just few ideas to lower your transportation logistics costs.
USE DIFFERENT MODES OF TRANSPORTATION
Becoming more flexible in your modes of transportation can help offset costs in ways that you might not have considered. Shipping freight by sea is usually less expensive than by air. But the time it takes might be costing you sales. Keep an eye on transportation costs for different modes and don't be afraid to make the switch.

Intermodal transportation is another option that shippers might not have considered if they have traditionally relied on single modes. Rail transport is usually less expensive than trucking, but a combination of the two might be the best way to stay in budget and on time.

Yet another way that mode flexibility can help is by minimizing your use of more expensive shipping options. If your customer needs just part of what you ship sooner than later, you will likely expedite shipping for an entire shipment. But you may be able to reduce costs by expediting only the freight that must get there fast and use less expensive modes for the rest of the shipment.
EXPLORE OPPORTUNITIES TO CONSOLIDATE SHIPMENTS
Less-than-Truckload (LTL) shipments are a convenient option for smaller weight. But if you can manage to consolidate shipments of different products or shipments for different customers into one shipment, you can save money by using more full-truckload shipping (FTL).
AUTOMATE YOUR LOGISTICS
If you can track your shipments from when they leave your door to when they are received by your customer, you can spot problem areas in your transportation logistics. It will also give you real-time information about unexpected delays, allowing you to react faster and more cost-effectively.
SUPPLY CHAIN VISIBILITY
Overseeing and maintaining visibility and control of your supply chain can reduce unexpected costs. By tracking and managing control over your products, parts, and components in transit, service disruptions or huge shipment delays can be alleviated quickly. Alternate routes of supply or distribution can be implemented faster which contributes to better cost control. While there's no way to predict disruptions in the logistics process, using real-time dashboards can give managers better insights into mitigating potential issues down the road.
TIMELY PLANNING & SCHEDULING
Ensuring operations are well-timed goes a long way to cutting inefficiencies which can prevent unnecessary and inflated logistics costs. Leverage scheduling software so that planning operations such as production schedule, transit times from pick-up and delivery to shipping routes move as planned. This will alleviate delays and missed deadlines, which can reflect poorly on your company's reputation and may ultimately cause a potential loss of clients and finances.
CONSIDER WAREHOUSING SERVICES
If you do a lot of shipping from the same point A to the same point B, especially over a long distance, it may be an option to warehouse goods closer to your customers and reduce your transportation costs.
FIND A TRANSPORTATION LOGISTICS SUPPLIER
Yes, some company offers transportation logistics services. The core competencies of your business may not lend themselves well to keeping your shipping costs in check. But it is the role of a transportation logistics company to maintain up-to-date options and flexibility in ways that can make the cost of outsourcing your transportation lower than keeping things in-house.
How Technology Comes Into Play
As we said, logistics requires a fair degree of planning, while transportation is the way of putting it into practice. As such, those in logistics deals with additional things like:
Packaging
Containerization – lifecycle management
Storage – inventory management
Documentation
Insurance
Mitigate Risk and Expenditures
Importing and Exporting Regulations
Freight Claims Management
Select the right LTL freight class for each respective shipment – freight management
Work with others in the supply chain
Leverage partners and vendors
It's for this reason why the project manager of transportation companies, big or small, will need to utilize transportation management software (TMS) that will best suit their needs. It's also beneficial to work together with an expert provider capable of not only providing them with that software but also with integrated services that deal with other areas of logistics such as documentation, accounting, claims, as well as create customized inbound freight management programs.
Rather than having to deal with all the minute details of both logistics and transportation management, your logistics executives can better focus their attention on results and strategy to further optimization. When you have a reliable partner that can help you with your daily processes, everything will run smoother and at a quicker pace.
#PITCH Thursday