Hello…
Why my username doesn't exist ? I have registered since december 2020
My username bantupay : arie1991
Welcome to the community, and please proceed to create a new account
Try to change your username and make sure non of your details is already used before then have a good internet connection
I don't know but your first name is two here
Clear the app cache too, it might help
Still same
Nothing change
Hey there, try a username that doesn't include numbers in it
Nice


Emad980
Emad989
Did you recently import your old wallet to the new one?
No, just login with the same account and same wallet…
And i cannot create a new account…
Hello @arie1991
When was the last time you successfully logged in to your account?
If it's been a while, then you will have to create a new Bantupay account using a different username, email and password.
The reality is that a lot of things have improved, and Bantu still needs you on this journey


to @stepharnite @marlv for the assistance.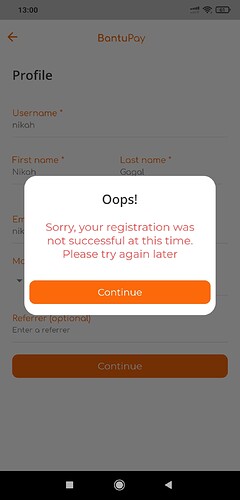 i'm using different email, username, and password… Still same… Cannot create account…
Please update your apps for fix this bug…
Hi @arie1991
Please, clear the Bantu app cache, uninstall and reinstall and let's know what happens.
Better yet, join the telegram Bantu support group if you haven't for further assistance.
Noted, maybe you should wait for the next app update
Okay… I will wait…
Hope bantupay with Bantu blockchain have a good futures