transferred xbn not reflecting in my account please help
In your bantupay account or exchange account? Where did you transfer the XBN to and from where? Explain in details
Please explain in details
From where to where… Let see if you follow the procedure
My brother also installed app and do the task to eeceive tokens,and i bought it,i transfered it from his wallet to my wallet…upon checking in my old app of bantupay you can see all tokens that i received but when i intalled the new version of the app not all balances are reflecting.The only token that you can see is the free one not including the transfered one…
What you bought from your brother was a Testnet Token which was not meant to be sold or bought because it was not real.
That's why it didn't reflect in the new version.
It was just to test the app and not real.
According to @Mrconfirm that is exactly what happened. The coin u bought from ur brother is not real coin. They gave u that coin inorder for u to use in testing the system if is effective.
Now they HV return ur app back to its normal state .
okay i got it,thanks for answering guys
You're wealthcome boss… We're one here so make this place a home ( habit )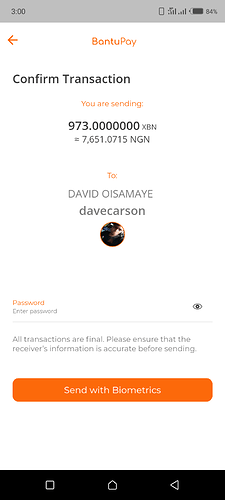 Please hlp me I send coin to my friend its show transaction successful but he has not received it yet I wonder what is wrong pls hlp​:sob:
Please make sure you already confirm the transaction, and please go to your history then copy the transaction hash here so we can check together on scan
Pls move to the bantu telegram community group under @banturewards and lay this complain