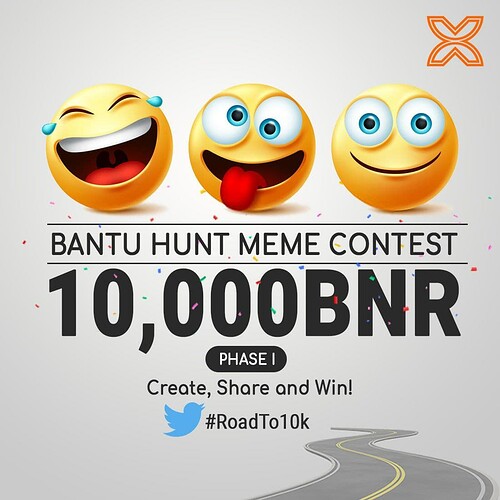 Hello Bantu!
XBN for the People: Bantu Hunt Meme Contest has come to an end!
Many meme stars and Twitter users were called to Join the Bantu Hunt and Make the $XBN Cashtag a prominent trend on Twitter. The #BantuArmy has delivered on the #Roadto10k
Now, exclusively on Bantutalk.org; please help us promote and select the most engaging and inspiring meme art created by these creators.
5 winners will share a pool of 10,000 BNR, courtesy of the Bantu Blockchain Foundation: The memes shortlisted below were selected based on the level of engagement they generated on twitter during the campaign. The community will vote for the top 5 memes. The vote will remain open until 2022-02-27T07:00:00Z
Rewards are as follows:
1st place gets 5,000 BNR tokens.
The other four get 1,250 each.
Rules for the vote:
Click on the link to view the meme on Twitter,
Like or Retweet the meme if you are voting for it.
Vote for your top 5 memes.
Let the vote begin.