How do you see a trading competition on Bantu?
Trading competition already occurred on Bittrex and fmfw.io and am sure more still coming soon
@Nifemi Stay tuned for update and annoucement about Bantu trading competition and other exciting Initiatives of Bantu Blockchain & its Industry partners such as Sterling, Interstellar & the likes has in store & various other curated assets & StableCoins
@Nifemi Take advantage of this!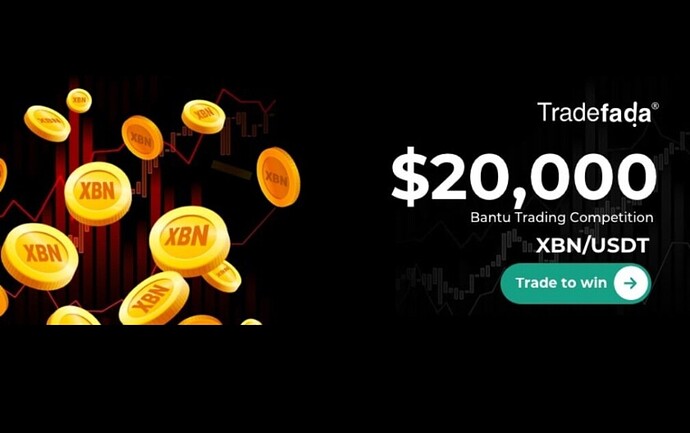 Dear Traders,
Stand a chance to win a share of the $20,000 in $XBN tokens on the Bantu Trading Competition on Tradefada Exchange.

The Competition will run from 15th January-16th February 2022.
The top users ranked by effective trading volume (including both buy and sell orders) on the XBN/USDT spot trading pair will share a prize pool of $20,000 in XBN tokens. The rewards will be split based on each users total XBN trading volume during the competition period.
To qualify for the prize, you need to register for the competition with your nickname on the Competition page
Best of Luck!!!
Thanks @olutaiwo this is a proposition come through
This is great! Hope we all would partake in this.
This automatically means XBN is listing on Tradefada.com
Kudos Bantu!
How do I participate I really don't understand
Hello @Nifemi
You just need to register on Tradefada.com and enter the competition to purchase or sell XBN using the XBN/USDT cryptocurrency pair on the platform.
The traders with the highest volumes of XBN/USDT pair trades (buy/sell) would be selected to win the grand prize worth $20,000 in XBN.
Thanks…Already participating
Did you participate in the first two, I have some questions.