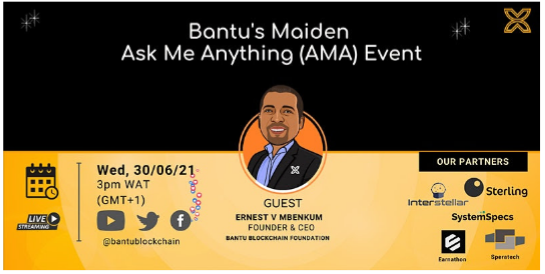 Hello Bantu!
To mark the end of Q2, we will be having our maiden "Ask Me Anything" (AMA) event.
It will be broadcast live on YouTube and Facebook next week Wednesday, 30 June, 2021 by 3pm GMT+1.
On this AMA, the community will be brought up to speed informally with our progress since we went mainnet, and they will get to ask some of their most pressing questions.
Register here: http://bit.ly/BantuAMA1
Please let's save the date.
Feel free to drop your question(s) in a reply to this post, or you are welcome to wait until the AMA time itself if you would like to ask questions in more real time.
ONLY QUESTIONS submitted on this THREAD will be selected and Ernest will answer during the AMA event.
Thank you for your support.