We are living in an era where only those who create or initiate something new can shape the present and the future of the world.
Bantu League of Innovators empowers humanities in life and career, supporting their growth as entrepreneurs, innovators, Developers Platform Owners, institutional, Enterprise partners and changemakers who are building on top of the Bantu Blockchain stack.
Among such institutional and enterprise partners who are building on top of the Bantu Blockchain Infrastructure are: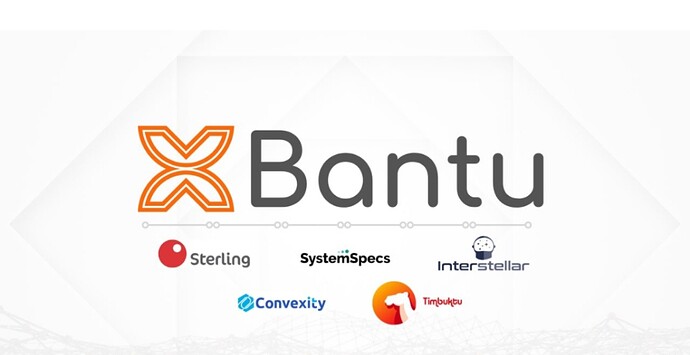 Sterling - "Your one-customer bank" is a full service national commercial bank in Nigeria that is changing and innovating better how banking and financial services are delivered in Africa's biggest economy and beyond. They have an ongoing project that will bring huge liquidity into the Bantu Blockchain ecosystem and solve one of the most obvious problems people have identified Blockchain to solve in Africa's highly populated continent.

Interstellar -Is an African Enterprise Blockchain Infrastructure Company. Interstellar powers critical blockchain infrastructure for digital payments and financial institutions in Africa. Interstellar is one of the major 3rd Partners for the Bantu Blockchain. Interstellar already have championed critical African Projects for companies like
Interswitch, Interswitch's broad network and robust payments platform have been instrumental to the development of the Nigerian payments ecosystem and provide Interswitch with credibility to expand across Africa. Today, Interswitch is a leading player with critical mass in Africa's rapidly developing financial ecosystem and is active across the payments value chain, providing a full suite of omni-channel payment solutions. ​
Central Bank of Nigeria, Starvolt
*SystemSpecs - The Foremost Provider of Innovative Payment and Human Capital Management Solutions and Services.One of the leading technology companies in Africa that has processed payments to the tune of billions of dollars. Their solution will also be announced in due course
Convexity - CHATS, a product of Convexity, is geared towards aiding the transparent distribution of conditional and unconditional voucher cash assistance or aid to vulnerable communities and families via Blockchain token and Cryptocurrencies. The platform is built to fight against fraudulent practices and give the Donors, NGO, Beneficiaries and Vendors visibility and certainty of funds reaching the desired target.
https://botmecash.com/ Botmecash is a cryptocurrency and digital asset exchange platform. On Botmecash you will be able to create and have to yourself a wallet address that you can fund and then use to purchase and sell Bitcoin, other Altcoin, trade your gift cards and overloaded airtime for cash.