Same problem here, tried it severally
Be sure to update your profile with your Bantutalk username on the Bantupay app before engaging the bot to link your Bantutalk username.
Pls I can't link my username. Why?
Mee too I dont understand anythink please reach us
Please goto your bantupay app and fill your data there goto profile in setting in bantupay app click on edit and fill as shown in pic then link in bot it will work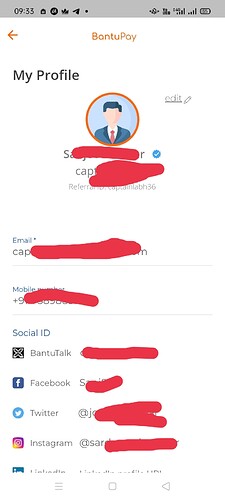 @vickigold @lyka410 @dstar thats because all your bantutalk usernames are still have big cap letters… let me help change it now then try again
Nama pengguna bantu talk saya asalah : Megaprasetia
Same problem…
My bantutalk username is Harun15 but can't link
Ensure to use all lowercases in your username on bantutalk.org, Bantupay wallet and when updating on the bot.
Having issues linking your username on the Bantupaybot? Try this fix.
First confirm that there are no uppercase alphabets in your username registered on the bantupay app, bantutalk.org and the input to the bot.
If the above checks out, the bot will accept your input.
Otherwise, do the following:
For the sake of uniformity, if you have already created your Bantutalk account with probably uppercase first letter in username, login to your Bantutalk account and edit your username with lower case letters only.
After that, login to your Bantupay app and edit your profile to update your Bantutalk username using the same all lower case letters.
Then you proceed to the bot to update your Bantutalk username. Again using lower case letters all through.
If the verification fails right after this, give it sometime to sync and try again but this time only on the bot.
The above should fix the Bantutalk username linking issue.
You can also refer to the rewards group on telegram @banturewards for all reward related enquiries.
Update usernny dulu di app.nya.itu nt baru connect.klik profil
Just go to yourprofil app .update your username.
Perki ke app mu klik setting gambar girl di bawah kanan. Terus klik profil .klik add.
Tinggal isi user Dan lainnya.klik continue!
SetBantuTalkUsername, kamalakar
Thank you for the explanation
Whr hv u been friend, is been a while