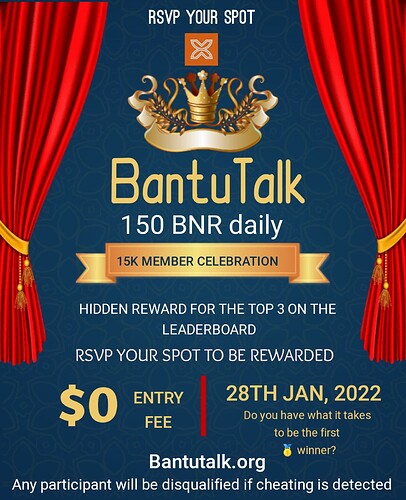 The year 2022 has brought a lot of great news for Bantu, from its recent listings, All time high (ATH) price of the XBN, to the more recent accomplishment of fifteen thousand members on BantuTalk.
This year is off to a great start, isn't it? So in order to celebrate the 15k milestone, a 3-5 day competitive event to reward Bantu's loyal community has been organized. We will play until Final Winners are determined.
How well do you know Bantu? You stand a chance of winning 150BNR daily from participating in the daily quiz/polls and share in a huge prize for the top 3 winners.
How to Participate:
The only requirement for qualification to play is to RSVP and you're to fill the form once.
The rules are one RSVP/per user.
Elimination rounds are determined daily and for those winners who qualify to advance. Note that if you missed a day then you will automatically get disqualified.
Cheaters & Rule breakers will also be disqualified.
Welcome To BantuTalk & We Wish You All Best Of Luck!!!