This is yet another important mile stone for a use case on Bantu Blockchain.
Please can I get answers to these questions:
What are the pros and cons, who benefits and how do you link such tokenization to the real asset… I mean how do we know when the asset ownership changed hands in real life
And what is the effect of that on the tokenized version?
Also if this is NFT, my understanding is it's unique, unchangeable, and non-transferable, so what does this mean in the context of real estate tokenization
Is the token tradeable, i.e. buy and sell
@lusim91 Tokenization is an excellent alternative to traditional ways of fundraising. It allows representing pieces of real estate ownership in the form of blockchain-based tokens that can be offered to thousands of investors all around the world…
Real estate asset tokenization advantages;
Attract smaller investors
Fractionalization lowers the investment threshold significantly so people can begin with investing as little as $100.
Gain access to international buyers.
Overcome the limits of a narrow community. Investors from all around the world will now be able to buy your real estate piece.
Increase financial capabilities
Make trading possible
Tokenized securities are easier to trade using the blockchain technology, which reduces the risk for investors.
Gain access to international buyers.
Overcome the limits of a narrow community. Investors from all around the world will now be able to buy your real estate piece.
The benefits of tokenization allow you to access more money for property construction and obtain better financing terms.
All of the mentioned factors together add up to you gaining access to more investors and making the business look more appealing for them, which results in more money to expand.
Essentially, Tokens tied to real estate assets (Asset Backed Tokens) can provide investors with the ability to own fractions of properties.
E,g, A family leaving in Kaduna or London may not be able to own an apartment/flat in Banana Island, Lagos but they could own a % say 1 or 2 %
Through fractional investments, unrelated parties can share in the ownership of a tangible asset. like an office building in Abuja.
Asset backed tokens solves both liquidity challenge for property developers and the financial inclusion challenge in retail investments e.g. average Nigeria can now invest N100,000 in Banana island.
I believe there is an estimated untapped capital of over 100trillion in Nigerian real estate and this can be unlucked with Blockchian technology.
This can be illustrated as below…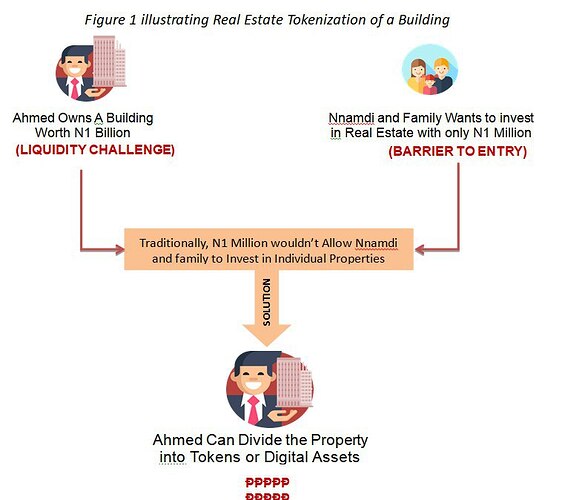 I hope that gives a good background into Asset backed tokenization.
The deeds to the whole real estate then belong to who and kept where…
@lusim91 In capital market a secuirity is essential a contract between an investor and the issuer of the security, the simpliest form is shares etc.
So the process of securitization is converting asset into a security, essentially in real estate you may securitize a building or a housing estate project. Rather than issue paper certificates as in the case of shares certificate, or deeds of assignments, used in real estate transactions to transfer legal title or the ownership in a land or building from the title holder (called the assignor) to another called the assignee, usually for a consideration (money or money's worth).
Tokens are issued on the blockchain.
This is a wonderful development

a greater step forward for Nigerian citizens
nice one again,for we all, not only sets of some class of people,we all gonna be house owners
I believe this journey for tokenization of real estate is a good initiative. Bantu forward ever,; back ward never…
Now i follow bantublockchain on Linkedin
Banu really has humanity in mind
Bantu blockchain and good thing are synonymous